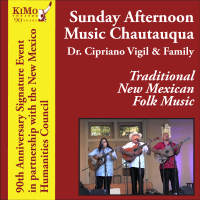 Live at the KiMo & NMHC Presents
Dr. Cipriano Vigil and Family perform: New Mexico Folk Music
Free 90th Anniversary Signature Event
KiMo Theatre, 423 Central Ave NW
Time: 2:00pm Day: Sunday Doors: 1:30pm Ages: All Ages Price: FREE
This Event Has Ended
Free 90th Anniversary Signature Event
Dr. Cipriano Vigil and Family perform
New Mexico Folk Music 
My repertoire consists of several styles of music and songs that branch out to all the different varieties found in northern New Mexico. My specialty is the traditional folk music, including the ritual music, and my original compositions, which falls into the category of La Nueva Canción (the new song form).
My son, Cipriano Pablo Vigil, and my daughter, Felicita Vigil Piñón, also perform with me in concerts. They learned and have been practicing these same traditions and music since a very young age. My son and daughter have been performing with me for about 25 years.
Recently, my granddaughter Marisol Vigil (14 years old), my grandson Mitzael Piñón (8 years old), and my youngest grandson Alonzo Vigil (3 years old) have been performing with us on stage.
Sunday, April 23, 2017: 2pm
Free Admission, The Chautauqua Stories and Songs Series
Funded in part by the New Mexico Humanities Council, and the State Department of Cultural Affairs.