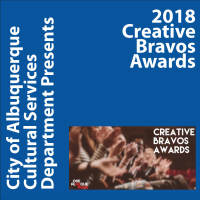 The City of Albuquerque Presents
Creative Bravos Awards
A ceremony to honor this year's recipients
KIMO THEATRE, 423 CENTRAL AVE NW
Time: 6:30pm Day: Friday Doors: 6:00pm Ages: All Ages Price: $10
This Event Has Ended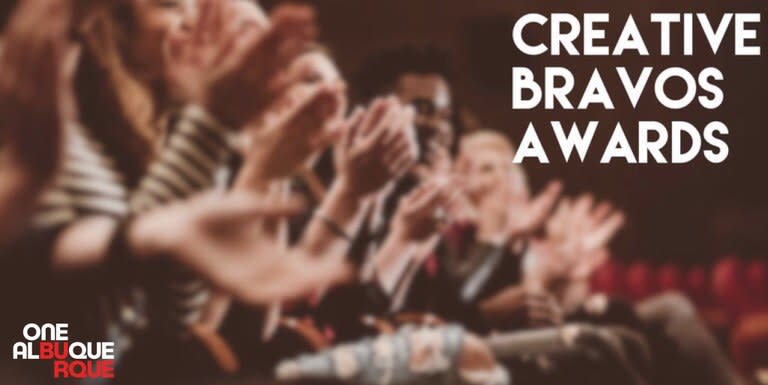 The City of Albuquerque Creative Bravos Awards are dedicated to recognizing and honoring work that makes a significant impact on the lives of residents, neighborhoods, and/or communities. The awards are given annually to individual artists, teams, events, programs, organizations and businesses that celebrate the breadth of creative work that exists in the city.
Each year 6-10 awards will be given at a celebration in November. One or more awards will be awarded to youth applicants as well as emerging practitioners of any age. Applications in languages other than English are encouraged. Nomination applications are closed. 
The selection committee has chosen five winners of the revived Creative Bravos Awards. A ceremony to honor this year's recipients will be at the KiMo Theatre on Friday, November 16 from 6:30 to 8 p.m. The ceremony is open to the public.
https://www.cabq.gov/culturalservices/creative-bravos-awards
The 2018 Creative Bravos Awards winners are: 
Native Realities, a comic book store near downtown Albuquerque owned and operated by Lee Francis, applies Native American and New Mexico values in a contemporary context. Native Realities strives to offer the most original and authentic representations of Native and Indigenous people through stories that educate and entertain children, youth, and adults. Francis creatively uses comic books and video games to inspire Native American youth through his IndigiPop workshops where students experience programming and storytelling by creating their own video games. View video interview here, https://youtu.be/uLA9ClvGMMQ
Circo Latino, a four-week summer immersion program, offers youth in Albuquerque the opportunity to learn physical circus skills such as acrobatics, aerial performance, juggling, and uni-cycling. The program facilitates social-emotional skills of collaboration, conflict resolution, creative expression, and risk taking, Circo Latino, now in its tenth year, is one of three Summer Institute programs at the National Hispanic Cultural Center. Circo Latino works with students ages 7-13 and has mentorship component for students ages 14-18. View video interview here, https://youtu.be/cmLTwb7AsXA
Ebony Isis Booth is a poet, writer, cultural strategist, activist, performer and community organizer. In 2015, she founded Burque Noir, a multimedia showcase for visual and performing artists who are Africa American in Albuquerque. Burque Noir hosts an annual High Tea on the Bosque, activating Bernalillo County's Bachechi Open Space for new communities while highlighting performing, visual, and culinary artists who are African American. In 2018, she launched Honeysuckle Creatives, a consultancy specializing in creative engagement strategies, project management, and event design with people of color in mind. View video interview here, https://youtu.be/S_34OfBiGYU
Kei & Molly Textiles opened in 2010 with the goal of creating good jobs in the community, especially for immigrants and refugees. Originally located in the International District, owners Kei Tsuzuki and Molly Luethi founded Kei & Molly Textiles both to create a printing studio producing artisan-quality fabric goods and to stimulate economic growth in their neighborhood. Since opening, close to two dozen employees have come through their doors, each gaining work training and life skills that are transferable to any job. Kei and Molly believe that through art, "we can tell various stories, and often use our design work to reflect the rich diversity we find in New Mexico." View video interview here, https://youtu.be/lJ-iP0LAnfU
Ideum is a creative company focused on using emerging technologies to design public installations and products that lead to meaningful visitor experiences. For the past decade, Ideum has designed and built for museums and other demanding spaces. Ideum focuses on the visitor as they use immersive digital tools like touch tables, video walls, projection mapping, and other technologies to tell stories of substance. Ideum has explored art, science, technology, and cultural topics in the exhibits they have developed. Founded by Jim Spadaccini, Ideum is the largest employer in Corrales. View video interview here, https://youtu.be/jaAy4zVpAtw
Frank and Pilar Leto, Legacy Bravos. In August of 1992 Frank and Pilar relocated to Albuquerque and brought multi-cultural music and dance to the community. Frank brought the sounds of the Caribbean to Albuquerque by bringing steel drums (a musical instrument originating from Trinidad and Tobago) to the Montessori School of Albuquerque where he taught music. Pilar started teaching Afro Cuban and Brazilian dance classes at the Harwood Center, with Frank accompanying on percussion. 
Frank and Pilar's annual Carnaval production is a cultural gem that creates a music and dance experience that takes the audience on a cultural journey. Carnaval transports the audience to Cuba, Brazil, Trinidad, and New Orleans by the traditional rhythms, instruments, costumes, and true dance styles of these locations. 
Montgomery Shirley, Emerging Bravos. Shirley is a graduate of ACE Leadership High School whose joy includes seeing art as action such as poetry slam, clowning, a Capella, dancing, singing, mural, animation, film and photography.  
Maggie Ramos-Mullane, Youth Bravos. Ramos-Mullane explains that she is quick to fall in love with the work of others. "Throughout my life, this lucky affection continues to gratify and inspire my necessity to make things, to seek connection, and to use artwork as a powerful extension of empathy," she says. 

Zavier Thompson, Youth Bravos. Thompson is a musician who has participated in local workshops and coalitions. He works with students of all ages in "assisting them in finding their voice." 
Sarita Sol Gonzalez, Youth Bravos. At 13, Gonzalez is one of the youngest writers in Albuquerque's poetry community. Her poetry, which has been published in various anthologies, reflects her love of her community and passion for her culture.