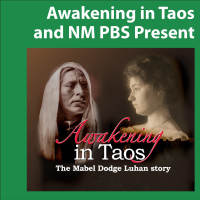 Awakening in Taos, LLC and NM PBS Presents
Awakening in Taos: Free Matinee Performance
The Mabel Dodge Luhan story.
KIMO THEATRE, 423 CENTRAL AVE NW
Time: 2:00pm Day: Sunday Doors: 1:30pm Ages: All Ages
This Event Has Ended

Awakening in Taos:  Free Matinee Performance
Awakening in Taos tells the story of Mabel Dodge Luhan's personal evolution as a writer, salon hostess, art patroness and social activist and a resident of New Mexico.
Born in Buffalo, New York, Mabel was a woman unique to her time. Her influence extended into the world of arts, music, literature and activism for social change. In her late 30s, she experienced a life-altering arrival at a small town in Northern New Mexico and embraced a Native culture in a way that seized the attention of the artistic and literary world. Dodge helped put Taos on the world map as a place of distinctive beauty and transformative spiritual power. 
During her pre-Taos life, Mabel searched for her meaning and purpose among the free-spirited modern thinkers of Europe and America. She hosted salons in Florence, Italy and Greenwich Village, New York where new ideas flowed freely and vibrated with the ideals of modern thinking. 
Mabel advocated for women's reproductive rights through her relationship with Margaret Sanger, a pioneer American birth control activist, sex educator, and nurse. Mabel attended Gertrude Stein's salons in Paris and promoted Modern Art. Dodge was the Vice-President for the groundbreaking Armory Show of 1913.
Mabel moved from Greenwich Village to Taos in 1917, and found herself mysteriously compelled to experience the world of Taos Pueblo. Much to the surprise of both the outside world and Taos's traditional Native American culture, Mabel married Antonio Lujan, a full-blooded Tiwa Indian from Taos Pueblo. This marriage required unbelievable mutual sacrifice and enormous courage on both of their parts in the early 20th century. Together Tony and Mabel created a revolutionary bridge between two cultures and brought the sophisticated but decaying urban culture of the early 20th century into direct confrontation with an ancient culture based on natural rhythms and a sacred respect for the mystery of all existence. 
While living in Taos, Mabel mobilized the Federated Women's Clubs of America (women had just received the right to vote) to help defeat the Bursum Bill of 1923, which would have deprived Natives in New Mexico of their traditional lands and distinctive cultures. The return of Taos Pueblo's sacred Blue Lake by the U.S. government in 1970 was initiated by the early efforts of Mabel Dodge and Tony Lujan. Although Blue Lake's return occurred after their deaths, it was a monumental achievement, culminating in the US government's first return of historical lands to their native caretakers.
The home of Mabel Dodge and Tony Luhan became a creative bridge between cultures and an inspiration for many writers and artists over the years. Among those they hosted were such outstanding artists and celebrities as D.H. Lawrence, Georgia O'Keeffe, Ansel Adams, Andrew Dasburg, John Marin, Marsden Hartley and many other creative minds in the worlds of art, literature and music. The film explores in depth the visits of both D.H. Lawrence and Mabel and Tony's friendship and letters with O'Keeffe.
In this present age of environmental crisis and social change, we believe the time has come to reawaken the issues for which Mabel Dodge Luhan campaigned with her heart and mind. The human wisdom and beauty she found and fostered in a small but stunning edge of the American frontier need to be powerfully represented to the world.