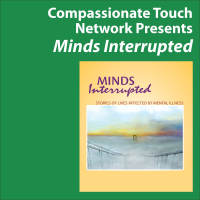 Breaking the Silence / New Mexico Presents
MINDS INTERRUPTED
Stories of Lives Affected by Mental Illness
KIMO THEATRE, 423 CENTRAL AVE NW
Time: 7:00pm Day: Saturday Doors: 5:30pm Ages: 13+ Ages Price: $15
This Event Has Ended
Silent Auction & Light Refreshments: 5:30-6:30pm (all are welcome)
Theatre doors open at 6:30pm
Show starts at 7:00pm
Join us for a live performance of "Minds Interrupted: Stories of Lives Affected by Mental Illness," an evening of poignant monologues that highlights the powerful stories of the struggles, persistence, and hope of individuals and families impacted by mental illness. Written and presented by seven residents from Albuquerque and surrounding areas, these heartfelt stories of pain, confusion, resilience and humor help to break the silence surrounding these serious illnesses. They shed light on the dedication and courage of those who live with mental illness day in and day out.

One in four American families are affected by chronic mental illness, including schizophrenia; bipolar, posttraumatic stress and other anxiety disorders. Yet, the stigma, shame, stereotypes, and secrecy surrounding these illnesses is so prevalent that people talk much less openly about them than about others, such as cancer or heart disease. This program promises to lend a hand in changing that. 
The event is produced by Breaking the Silence/New Mexico, a nonprofit dedicated to mental health literacy and advocacy for all ages through education and the arts. Our primary focus is educating upper elementary, middle and high school youth in the classroom about mental illness, suicide, and stigma. This school year we have presented in 9 New Mexico counties at 40 schools to over 4,200 youth.  


For information about "Minds,", please contact Executive Director Michele Herling @ 505-577-7840