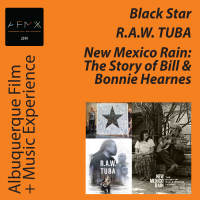 AFMX Presents
Black Star / R.A.W. TUBA / New Mexico Rain: The Story of Bill & Bonnie Hearne
Music, Documentary Short
KIMO THEATRE, 423 CENTRAL AVE NW
Time: 1:15pm Day: Saturday Doors: 12:45pm Ages: All Ages Price: $10
This Event Has Ended
Black Star
BLACK STAR: Black Star follows Jon Butcher's first person narration in his quest of creation for his tribute to the greatest artists that the world has lost to addiction. Serving as a call to viewers watching, Jon's mission is to pay homage to the fallen through his art, while recognizing those who are currently struggling with this disease on earth. Butcher and his family set out to Bali, where with some introspective thinking and deep reflection of the life and works of David Bowie, the stars aligned to conceive his greatest work yet.
Sat, Sep 28th, 1:15 PM @ KiMo Theatre
Jon Butcher, Joe Polish, Gabor Maté
R.A.W. TUBA
R.A.W. TUBA: This film is about a Baltimore child who experienced intermittent homelessness but went on to become a world-class symphony musician and professor. As a child, Richard Antoine White (R.A.W.) slept wherever he could, sometimes in abandoned rowhomes where he was chewed on by rats during his sleep. Now in his 40s, he still has the scars across his abdomen. But despite enormous challenges, he went on to become the first African American in the world to receive a Doctorate in Music for Tuba Performance (D.M. not to be confused with the less rare D.M.A.), and not just from anywhere, from one of the most prestigious music programs in the US. Richard is now not only a tenured professor at the University of New Mexico, but he's also the principal tubist of the New Mexico Philharmonic, which is in and of itself an Olympian-level accomplishment.
Sat, Sep 28th, 1:15 PM @ KiMo Theatre
New Mexico Rain: The Story of Bill & Bonnie Hearne
NEW MEXICO RAIN: THE STORY OF BILL & BONNIE HEARNE: New Mexico Rain is a story of the love, tenacity, and talent of Bill and Bonnie Hearne. Bill was legally blind from birth and Bonnie was totally blind, yet they were able to parlay their musical talent into a successful musical career and their love and tenacity into a marriage that stood the test of time. Their unique style of music made them essential acts in the venues around Austin and northern New Mexico. Lyle Lovett, Robert Earl Keene, Michael Martin Murphey, and others, give glimpses of Bill and Bonnie's influence on them personally and on this style of music even today.
Sat, Sep 28th, 1:15 PM @ KiMo Theatre
Bunee Tomlinson, Brady Foster

Bill Hearne, Bonnie Hearne, Lyle Lovett, Robert Earl Keene, Michael Martin Murphy, Michael Hearne, Don Richmond, David Card
KiMo Theatre
423 Central Avenue, NW
Albuquerque, NM 87102
September 28, 2019, 1:15 - 3:30 PM