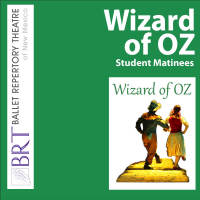 Ballet Repertory Theatre Presents
Wizard of Oz - Student Matinee
This event is not available online. Contact the KiMo Theatre Ticket Office directly for tickets: 505-768-3522
KiMo Theatre, 423 Central Ave NW
Time: 10:00am Day: Wednesday Doors: 9:30am Ages: All Ages
This event is not available online.   Contact the KiMo Theatre Ticket Office directly for tickets:
505-768-3522 or email kimotheatre@cabq.gov
Children's Series – Wizard of Oz
Based on the classic children's book, this ballet springs to life with elaborate sets, choreography, and costumes. Join Dorothy as she discovers knowledge, courage, love, and the power of friendship in this classic tale of a magical journey!
(Enhances Common Core State Standards as Wizard of OZ is a CCSS text exemplar.) 
Groups of 10 or more:  $5 each
Support materials provided with the purchase of 15 or more tickets in paid for in advance.
Individual Tickets based on availability
$12.00 General Admission
$10.00 Children (10 and younger), Seniors (60 and older), and College Students (with current ID)
All persons attending must have a ticket including infants, chaperones, and parents.
Seating will be assigned by the House Manager on day of show.
KiMo Ticket Office Hours:
(Open 1 hour prior to curtain time)