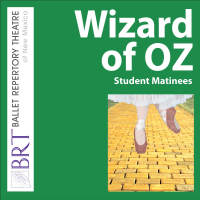 Ballet Repertory Theatre Presents
Wizard of Oz - Student Matinee
This event is not available online. Contact the KiMo Theatre Ticket Office directly for tickets: 505-768-3522
KiMo Theatre, 423 Central Ave NW
Time: 10:00am Day: Wednesday Doors: 9:30am Ages: All Ages
This event is not available online.   Contact the KiMo Theatre Ticket Office directly for tickets:
505-768-3522 or email kimotheatre@cabq.gov
Children's Series – Wizard of Oz
Groups of 10 or more:  $5 each
Support materials provided with the purchase of 15 or more tickets in paid for in advance.
Individual Tickets based on availability
$12.00 General Admission
$10.00 Children (10 and younger), Seniors (60 and older), and College Students (with current ID)
All persons attending must have a ticket including infants, chaperones, and parents.
Seating will be assigned by the House Manager on day of show.
KiMo Ticket Office Hours:
Wednesday - Saturday 12 p.m. - 6 p.m. & Sunday 12 p.m. - 3 p.m.
(also open 1 hour prior to curtain time)