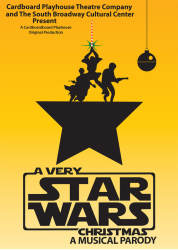 Cardboard Playhouse Theatre Company Presents:
A Very Star Wars Christmas
A Musical Parody
KiMo Theatre, 423 Central Ave NW
Time: 2:00pm Day: Saturday Doors: 1:00pm Ages: All Ages Price: $8 - $12

Music by
Casey Marz
Lyrics by
Doug Montoya
Written by
Kathleen Miller and Doug Montoya
When Darth Vader complains about the overwhelming materialism that he sees amongst everyone during the Forcemas season, Queen Amidala suggests that he become director of the school Forcemas pageant. Vader accepts, but it proves to be a frustrating struggle. When an attempt to restore the proper spirit with a forlorn little fir Forcemas tree fails, he needs Yoda's help to learn the real meaning of the Force.
This Star Wars satire has all of your favorite characters and includes four original songs written just for this production. Yoda says, "Enjoy this show you will". Jar Jar Binks says, "Yousa will be bombad laughing allsa daysa!"