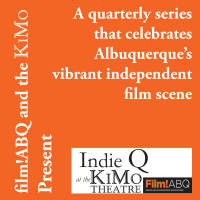 Film!ABQ & The KiMo
IndieQ at the KiMo
Stiffed
FREE ADMISSION - Not recommended for children under the age of 17
Time: 7:00pm Day: Wednesday Doors: 6:30pm
This Event Has Ended
FREE ADMISSION - Not recommended for children under the age of 17
Written, Produced and Edited by Devin O'Leary .
Bored with booze, strippers and some light armed robbery, Frank, Keno and
Milton plan and execute the perfect bank heist--only to end up in the
county morgue after a horrific car crash. Fortunately, Frank's latest
girlfriend is a demon - worshipping pole dancer with big plans for a trio of
crooks who can't be killed ... because they're already dead. Now, with
an intrepid police detective hot on their rotting heels and a girlfriend
from Hell pulling their strings, our undead criminal geniuses have their
work cut out for them. If only they can keep from falling apart ...
professionally and physically! This supernatural crime comedy was shot
right here in New Mexico. Join us for the DVD release party, courtesy of
film!NM and Alternative Cinema.
Cast and crew will be in attendance.

>100 minutes.